One issue about which I have always cared greatly is protecting life. As a legislator, I worked to implement Informed Consent and Ultrasound laws designed to protect the life and health of the mother and unborn child. This week, Idaho Chooses Life, Idaho's best-known pro-life organization, chose to endorse me for Idaho Lieutenant Governor.
David Ripley, the Executive Director of Idaho Chooses Life said, "Janice McGeachin has been endorsed by Idaho Chooses Life for Lt. Governor in the upcoming general election. She is the only candidate running who shares our pro-Life values, and we believe that Janice can be invaluable in the certain battle for those values in the years ahead. We urge pro-Life voters to support this historic candidacy."
I greatly appreciate the endorsement from Idaho Chooses Life and I am humbled by their faith in me. I look forward to working with Idaho Chooses Life and other stakeholders to protect the lives of all Idahoans from conception to natural death.
Our campaign to Keep Idaho Conservative continues!
Last Saturday, I had the pleasure of going to Independence Indoor Shooting range in Meridian Idaho. It was amazing to have so many great people stop by our booth and ask questions about my campaign. We gave out some great raffle prices as well!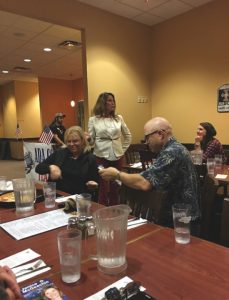 On Tuesday, we had the phone bank going again for our volunteers. The phone banks are a great way for our campaign to get out the vote for the November 6th election, plus we have a pizza party after. I feel truly blessed at the amazing turnout we have received the last few weeks for the phone banks. If you would like to volunteer to phone bank, please email jordanwatters27@gmail.com.
In Meridian Idaho on Tuesday this week, I participated in a Tea Party meet and greet at Chicago Connection. I was among four candidates who spoke to the group on a wide range of issues. It was a true honor to speak to everyone that night and to answer their questions.
We are working diligently to Keep Idaho Conservative and to push back against the progressive agenda. We are at a fork in the road and it is up to YOU to decide which path Idaho will take. If you are willing to contribute to our efforts, it would be tremendously helpful and much appreciated.
---
October 15: Middleton Meet and Greet BBQ
When: Monday, October 15th from 5:00 – 7:00 pm
Where: 26105 Amarel Way, Middleton, ID 83644
What: BBQ Meet and Greet. Come hungry!
October 16: McGeachin Phone Banking-Pizza Party
When: Tuesday, October 16th from 5:30 pm – 7:30 pm
What: Please call 850-212-4926 for more information or email Jordan at jordanwatters27@gmail.com
October 16: Canyon County Central Committee
When: Tuesday, October 16th from 7:00 pm – 8:30 pm
Where: Canyon County Administration Building, 111 11th Street, Caldwell
October 17: Idaho Debates
When: Wednesday, October 17th from 8:00 pm – 9:00 pm MT or 7:00 pm – 8:00 pm Pacific Time
TV: Idaho Public Television. Check your local listings for more details
October 17 – October 27: Idaho Republican Bus Tour
Check below to see when I'm coming to a city near you!