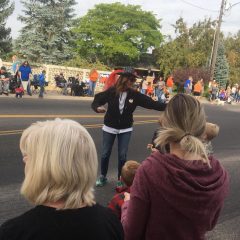 It has been another busy week for our campaign. Last Saturday I had the honor to partake in the Idaho State University homecoming parade. It's always great to get down to Pocatello and interact with members of their lovely community. The Idaho State University parade was awesome! Go Bengals!
On Tuesday, October 2nd I visited the Shaw Mountain Assisted Living facility. It was a blessing to have so many residents attend our meet and greet. The residents and staff were so gracious to me while I was there. It's always been important to me to make sure we do everything we can to support these facilities around the state.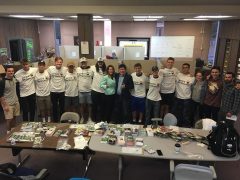 It's phone banking season! Thank you to my amazing volunteers from Boise State University for phone banking on my behalf Tuesday night. It gives me so much hope to see so many young people getting involved in our campaign and working hard to make a difference in their local politics. If you would like to get involved in our campaign, please call 850-212-4926 or email jordanwatters27@gmail.com.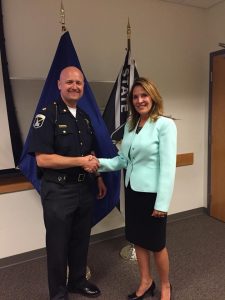 In Meridian on Wednesday, October 3rd I spent time at the "Get to Know your Local Police" meeting. It is always amazing to hear the stories of our men and women in uniform. Their sacrifice for their community and their state is truly inspiring. If you get the chance, please find a "Get to Know your Local Police" meeting and attend!
Finally, there is one more thing of which you should be aware. Rick Santorum, a former Republican presidential candidate and two-term Republican senator from Pennsylvania, recently wrote a letter to Idahoans about the choice we face in November regarding Medicaid Expansion (Proposition 2) in Idaho. He submitted this letter to the Idaho Statesman, the Post Register, and the Idaho Press (formerly the Idaho Press-Tribune.) They all refused to publish it.
We are facing a multi-million dollar decision (multi-billion dollar decision if you include all the projected federal spending required over the next decade) here in Idaho, yet the local media only seems interested in pushing one side's positions and talking points. That is not acceptable, so I decided to publish Rick Santorum's letter in full so that you can better understand the risks and pitfalls associated with Medicaid Expansion.
I greatly appreciate Rick Santorum's wise counsel on this important issue.
October 6: Janice for Idaho Meet and Greet
When: Saturday, October 6th from 1:00 pm – 3:00 pm
Where: Independence Indoor Shooting (2749 E Gala Ct, Meridian, ID)
October 6: We the People Rally
When: Saturday, October 6th from 9:00 am – 9:00 pm
Where: Canyon County Idaho
October 7: Life Chain
When: Sunday, October 7th from 2:00 pm – 4:00 pm
Where: Red Robin (267 N Milwaukee St, Boise, ID)
October 9: McGeachin Phone Banking-Pizza Party
When: Tuesday, October 9th from 5:30 pm – 7:30 pm
What: Please call 850-212-4926 for more information or email Jordan at jordanwatters27@gmail.com
October 9: Ada County Tea Party Candidate Meet and Greet
When: Tuesday, October 9th from 7:00 pm – 8:30 pm
Where: Chicago Connection (1935 South Eagle Road, Meridian, ID)
October 15: Middleton Meet and Greet BBQ
When: Monday, October 15th from 5:00 – 7:00 pm
Where: 26105 Amarel Way, Middleton, ID
What: BBQ Meet and Greet. Come hungry!