The McGeachin for Governor Campaign is pleased to announce its Regional Directors!
The map below shows the region boundaries.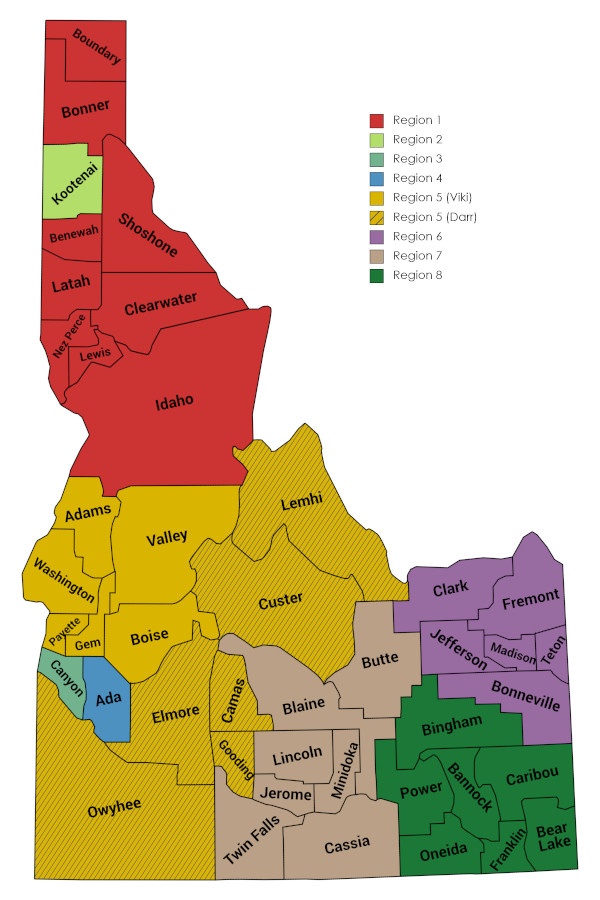 Cornel Rasor — Region 1 Director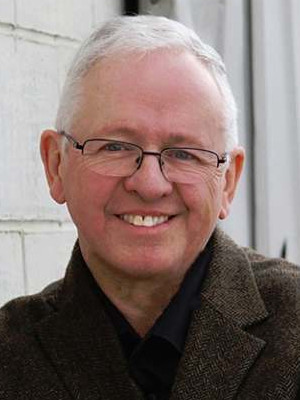 Cornel served four years as a County Commissioner and currently serves as the chairman of the Bonner County Natural Resources Committee which serves under the County Commissioners.
He is a local business owner and has operated the Army Surplus Store in Sandpoint for 40 years.
Cornel grew up in Bonner County. He and his wife Kim Luckey Rasor have been married for 45 years and have three children and 16 grandchildren, all who reside in Idaho. They are past volunteers in the community for Life Choices Center.
Cornel serves on the Bonner County Republican Central Committee, where he has been an elected precinct committeeman since 1996. He served as the Bonner County Central Committee Chair from 2008-2012 and has served as the Idaho Legislative District 7 Chair since 2012. He served as a County Commissioner from 2009-2013. He frequently serves as a parliamentarian and provides Robert's Rules Training for multiple groups and committees.
I am supporting Janice for governor because I watched her career as a state legislator for 10 years in the Idaho state legislature. She was fearless in defending liberty and was willing to stand for freedom no matter who was attempting to subvert it. She understands the issues that are facing our state today and is more than willing to tackle those issues and bring answers that will maintain the liberty that Idahoans cherish. She's willing to learn and she knows how to take advice process it and then lead. Janice is just what Idaho needs today.
cornel@janiceforidaho.com
---
Summer Bushnell — Region 2 Director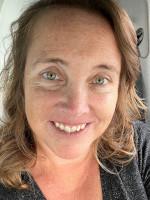 Hello, my name is Summer Bushnell and I'm very excited to be working for Janice McGeachin in North Idaho.
Janice is the real deal. A genuine conservative Christian with a heart of gold. She has been fighting for liberty and freedom regardless of recognition for years.
I have been helping local North Idahoans run for office for over 6 years. I am enjoying being part of a team for a statewide campaign.
Join me in voting for Janice McGeachin for Governor of Idaho on May 17th.
summer@janiceforidaho.com
---
Mila Wood — Region 3 Director
Hi my name is Mila Wood,
I am a native Idahoan, married for 33 years to Randy Wood. We have two grown boys and are small business owners, we are pro-responsible government.
The past two years I have served on the Board of a National, non-partisan educational organization that teaches systematic political leadership and the principles of federalism. I reject all forms of racial and religious supremacy, reject bureaucratic bullying and believe due process matters.
My political activism, or beyond voting, started when I got involved with Idahoans For Local Education in fighting the Common Core Education reform package. I am pro-human Teacher, local control and pro-data privacy protection.
I am supporting Janice McGeachin for governor. As a fellow small business owner, Janice believes that all Idaho small businesses are essential. She would never side with the hate America team to tell anyone in Idaho that they are non-essential. So join me in supporting the save America team by getting Janice McGeachin into the governors office!
mila@janiceforidaho.com
---
Darr Moon — Region 5 Co-Director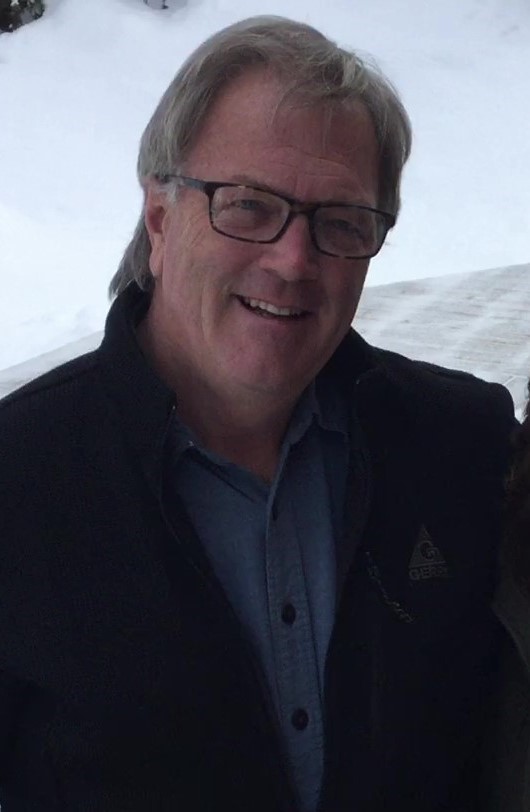 Darr Moon is a professional civil engineer and land surveyor with a B.S. in Geological Engineering. Darr lives in Central Idaho and is actively working a small family gold mine and sawmill in Custer County. He is the Custer County Republican Chairman and co-founder of the Idaho Liberty Summit. Darr administers Idaho On Fire, a private on-line page that focuses on Idaho's mineral, timber and ranching resources.
Darr graduated from the University of Idaho, School of Mines and spent several years overseas with Schlumberger, an international oil service company developing offshore wells in the North Sea, Persian Gulf and Red Sea. He recently sold Moon & Associates Inc., a private civil engineering and land surveying firm in the Mini-Cassia area.
Darr supports gubernatorial candidate Janice McGeachin as she understands the critical resource needs Idaho can provide for America to move forward into the 21st century. Idaho is home to several rare mineral and metal resources including cobalt, a metal in most lithium-ion batteries, rare earths metals, necessary compounds in many high-tech fiber optics, laser and magnetic applications and phosphates that are enhancing agricultural production around the world. Idaho's timber can once again be a major economic driving force in rural areas where economic opportunity is slim. Idaho timber provides millions of dollars to our school endowment and could provide millions more. Our forests do not have to burn. They can become productive components in a balanced approach to keeping Idaho green. And finally, Janice sees Idaho's ranching families as backbone to our rural economies and lifestyles. There is nothing more iconic than Idaho's cowboys and cowgirls and nothing more important to protect than their happy lives on the open range.
darr@janiceforidaho.com
---
Viki Purdy — Region 5 Co-Director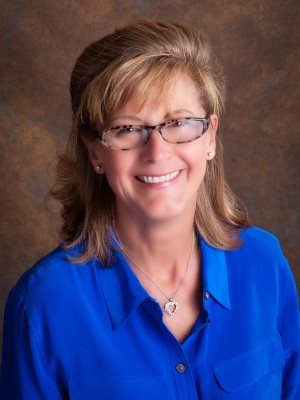 Hi, I'm Viki Purdy, Adams County Commissioner. I have been married to my wonderful husband 43 years. Together, we have two wonderful daughters and three priceless Granddaughters. My husband Dana and I worked side by side as dairy farmers for many years, raising a family and growing a successful business, from which we retired in 2005.
In addition to managing a dairy farm, I have held numerous political and community leadership roles throughout my career. I have served as the President of Ada County Farm Bureau and the Adams County GOP Chairman, and today, I serve as the Idaho GOP Region III Chairman, a position I have held for the past eight years.
As a party officer and an elected county commissioner, I know my most important job is to protect the people's God-given rights. I support Lt. Governor Janice McGeachin for Governor of Idaho because I know she will protect those rights as well. Far too often, we see elected officials and bureaucrats who choose to abuse the rights of good patriots while offering the flimsy pretext, "Just trust us, it's for your own good." This kind of behavior is moving us ever closer to a country that has abandoned its constitutional foundations.
As Governor, Janice will represent and defend all the people of Idaho, and I am proud to support her.
viki@janiceforidaho.com
---
Bryan Zollinger — Region 6 Director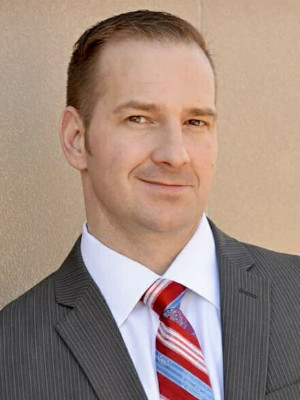 I am Bryan Zollinger, I am a husband to a beautiful wife and a father of 5 school aged children. I loved growing up in Idaho and want my children to have the same great opportunities that I had. In that regard, I have served 4 years on the Idaho Falls District 91 School Board and another 4 years in the Idaho State Legislature.
Because I love this state and country and the freedoms we enjoy, I am proud to support Janice McGeachin for Govenor of the great state of Idaho. I have worked with Janice in our local community and in the state legislature and have witnessed her tremendous leadership. I know that Janice will always fight to preserve our God given rights and will always defend those rights guaranteed us, both in the Idaho and the United States Constitution.
bryan@janiceforidaho.com
---
Dennis Hakes — Region 7 Director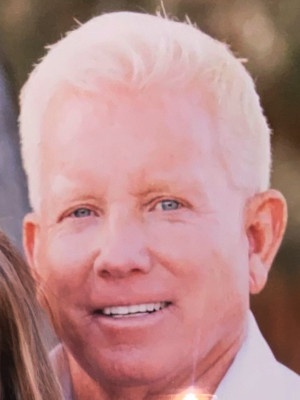 I am Dennis Hakes and I am sooo fortunate to be married to Jeanie Hakes the love of my life. I love God, Freedom, Family, Janice and Football. We have a huge family, 13 children and now 28 GRANDCHILDREN. Jeanie and I have a business that gives us the chance to work together with our family.
With all of our extra time, Jeanie and I support our next GREAT GOVERNOR of Idaho JANICE MCGEACHIN. We support her because:
1 Janice loves God
2 Janice believes in individual freedom
3 Janice hates a bribe
4 We will ALL have a friend in the Governor of Idaho
dennis@janiceforidaho.com
---
LaQueta Morgan — Region 8 Director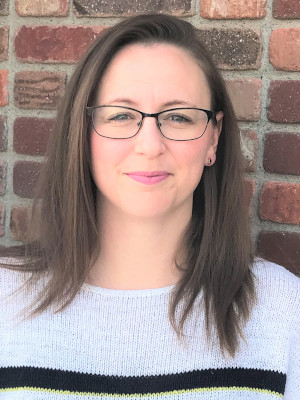 LaQueta Morgan is a classical educator and homeschooling mom. She believes that good education is fundamental to our constitutional republic and the freedom of future generations. She is also the wife of a military veteran and she appreciates the sacrifices that military families make each and every day in order to serve our great country.
Lt. Governor Janice McGeachin has proven that she will stand up for our freedoms, our families, and our education in Idaho. She is a strong woman who is not afraid to stand up to the media and the establishment politicians. For those reasons and many more, I enthusiastically support her campaign for Governor of Idaho.
laqueta@janiceforidaho.com