Dear Friends,
I have some exciting news!
It's been just under four weeks since I announced that I am running for Idaho Governor. Since then, we have received an outpouring of support for our campaign. We have also received numerous requests to purchase campaign merchandise. We have been selling campaign merchandise at events, but our supporters have been requesting more products and increased availability.
I am pleased to announce that our campaign merchandise is now available for purchase online!
Please Visit the Campaign Store to purchase your McGeachin for Governor Campaign merchandise.
All purchases support the McGeachin for Governor Campaign and will show your dedication to the principles that have Made Idaho Great — individual liberty, state sovereignty, and traditional conservative values.
Purchases of campaign merchandise are considered political contributions to the McGeachin for Governor Campaign and are not deductible as charitable donations for federal income tax purposes.
You can also CLICK HERE to make a direct contribution to our campaign.
Thank you for your continued support of our campaign to Make Idaho Free Again!
Sincerely,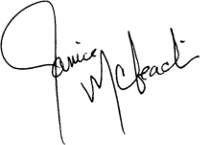 Janice McGeachin for Idaho Governor