Janice McGeachin is Idaho's current Lt. Governor. She is a Conservative Republican and the first female Lt. Governor to serve the state of Idaho.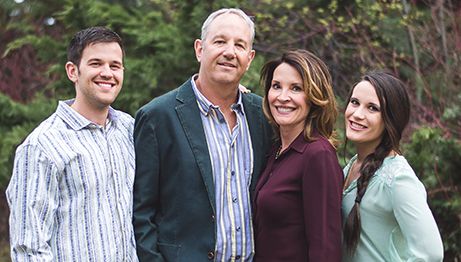 Janice is a former State Representative and a successful business owner from Idaho Falls who, along with her husband Jim McGeachin, own and operate multiple businesses in the automotive industry, with locations in Idaho Falls and Boise.
In 2012, she and her family renovated an historic building in downtown Idaho Falls and established the area's only Irish restaurant.
Janice and Jim have two adult children who help manage their family businesses.
Janice is a proven conservative leader with an established track record of working with others to promote fiscal responsibility. She is committed to Keeping Idaho Conservative and, as a staunchly pro-life legislator, worked to implement Informed Consent and Ultrasound laws designed to protect the life and health of the mother and unborn child.
Janice is concerned about the negative impact the growing national debt (now more than $30 trillion) has on our life, liberty, and prosperity. She is committed to promoting consistency among Republican leadership on fiscal responsibility and working to increase public awareness regarding our state and nation's finances.
As Lt. Governor, Janice chaired the Regional Committee on Government Efficiencies, served on the Coronavirus Financial Advisory Committee, and established an Education Task Force to identify and prevent anti-American teachings in education.
Janice was an elected State Representative from 2002-2012, and served on numerous committees including State Affairs, Revenue & Taxation, Judicial, Joint Finance and Appropriations (JFAC), and Health & Welfare where she served as the Chair and worked to prevent the implementation of Obamacare in Idaho in 2012 by educating colleagues and the public of the devastating impacts of the law to individuals and to our business community.
As Chair, she collaborated with House and Senate Leadership, the medical community, recipients, departments, agencies, and the Governor's Office to reduce Medicaid costs across the board, avoiding deep cuts to particular programs when tax revenues came up short in 2011.
Janice served on the Joint Millennium Fund Committee, state employee Change in Employee Compensation Committee, Economic Outlook and Revenue Assessment Committee, and the Health Care Task Force.
Janice serves as a Bonneville County Central Committee member, is a member of the Bonneville County Republican Women and the Blaine County Republican Women, and is the Bonneville County State Committee Woman.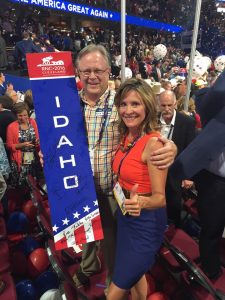 Janice was proud to serve as the Bonneville County Chair and the 1st Vice State Chair for the Trump Idaho State Committee and as a Trump Delegate to the 2016 Republican National Convention in Cleveland, Ohio.
Janice enjoys skiing, hiking, and traveling. She graduated from Skyline High School in 1981 and received her BSBA in Finance and Accounting from the University of Arizona in 1985. She is a member of the First Presbyterian Church. She has been involved in children and youth ministries and served as a Ruling Elder within the church.
Janice's community service includes having served as the Chairman of the Board for the Idaho Innovation Center and as a Board Member for the Development Workshop and the Mountain River Valley American Red Cross. She is a member of the Idaho Falls Rotary Club, and was an active member of the Greater Idaho Falls Chamber of Commerce, and the United Way Disbursement Committee.